Precision Detailing Pricing
All vehicle customization quotes are subject to change. See PD for details.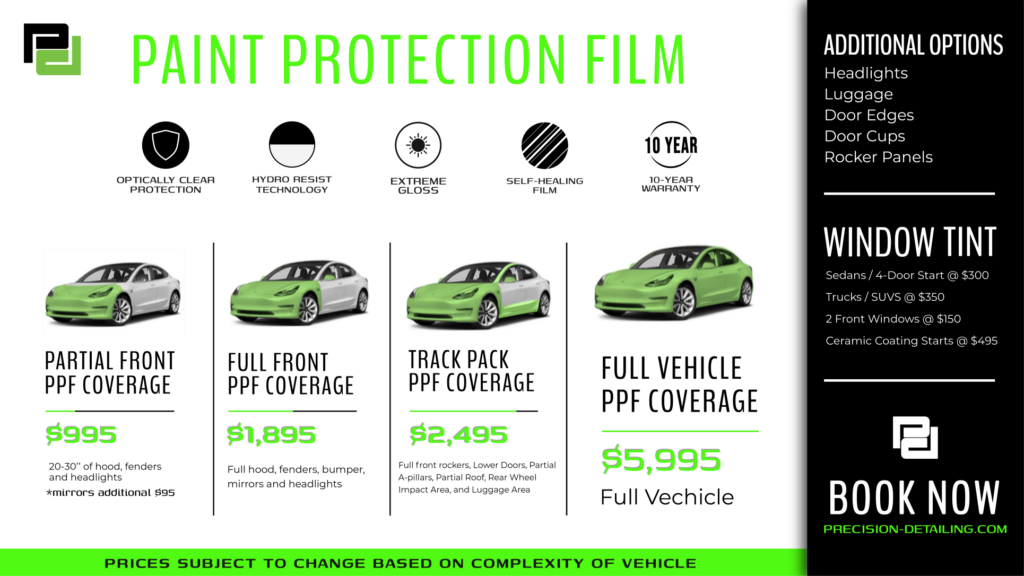 Window Tint Costs
Sedans/4-Door start @ $300

Trucks / SUVS @ $350

2 Front Windows @ $150
Ceramic Coating Pricing Starts @ $495
Of course, each vehicle's shape is unique therefore ceramic coating quotes need Vehicle Year / Make / Model information submitted before a final quote can be provided.
Paint Protection Film Pricing
*PRICES SUBJECT TO CHANGE BASED ON COMPLEXITY OF VEHICLE*
PARTIAL FRONT PPF COVERAGE: $995
20-30″ OF HOOD, FENDERS, BUMPERS AND HEADLIGHTS *Mirrors additional $95*
FULL FRONT PPF COVERAGE: $1,895
Full hood, fenders, bumper, mirrors & headlights
TRACK PACK PPF COVERAGE: $2,495
FULL FRONT, ROCKERS, LOWER DOORS, PARTIAL A-PILLARS, PARTIAL ROOF, REAR WHEEL IMPACT AREA, AND LUGGAGE AREA
FULL VEHICLE COVERAGE: $5,995
For Unique, Fleet or Commercial Vehicle Pricing, Contact Us
Contact Us